Dingo on the Prairie
And now, to welcome you to the Prairie, here's our emcee, who's come to us from a big heaping pile on the sidewalk. What? Who's funding this thing?! No one? Yeesh.... Lar, take it away.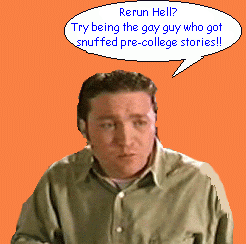 Dingo Action! Archive
Livin' Spoiler-Free? -- See What's New!
Well..rerun hell it is since the show ended in May 2003. Sorry, Lar. Anyhoo, thanks for tuning in, and welcome!

I was going to say more here, but why prolong the inevitable? Jump around to see what's here and have a spiffy visit!
~dingochick, who wonders when Sid will come back as emcee.
of the Scooby Gang.-->
Optimal resolution for this site is 640x480.
---
Even though I'm in no way affiliated with the show, you can still feel free to
e-mail me if you so desire
---
Site © 1998-2008 by hilary. All rights reserved.
Hence...all original text on these pages is copyrighted.
Please don't snag anything.
Before taking pics to use on your site, please contact the owners (folks who let me use them) for permission. Thanks!!

And if you didn't already know, Buffy the Vampire Slayer (including characters, dialogue, etc.)is copyrighted, owned, -- and paid slave wages (joke!) -- by Fox Television, WB, Mutant Enemy, Joss Whedon, to name a few.
This site, its content, and my status as webmaster are not in any way authorized by Fox. (Surprise much?)
No copyright infringement is intended.
Member of the BtVS Site Masters' Guild!
The nifty graphic for that is on the Disclaimers/Credits page!
---
This main page last updated October 16, 2003