The ABCs of Sunnydale
Miss Natalie French (She-Mantis):
Debut -- Teacher's Pet (Season 1)
Died Same Episode
Miss Natalie French appears as the substitute biology teacher after Dr. Gregory is reported missing. It's apparent early on that all of the male students are attracted to her, and she also takes an interest in them. While Buffy is out one night trying to find The Claw, she happens upon Miss French and notices very odd behavior -- namely that The Claw is scared to death of the teacher. Buffy becomes increasingly suspicious of Miss French and discovers that the teacher is in fact, a She-Mantis...sort of a shape-shifter who can appear to be human in order to find and mate with male virgins. In this case, Xander and Blayne are her intended targets. Buffy learns thats the She-Mantis is using an assumed identity; there's a real Natalie French, and the gang has no idea where the She-Mantis could be.
Buffy enlists the help of The Claw to track down the She-Mantis. Good idea, there. Anyhoo, Buffy defeats the She-Mantis by using bat sonar and a machete-looking implement to hack apart the insect's limbs.
Most Fitting Line:
"Oh, Xander, I've done something really stupid."
---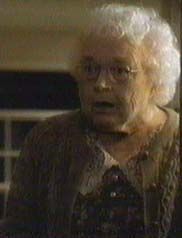 Natalie French
(aka The Real One)
:
Debut -- Teacher's Pet (Season 1)
Last Seen -- Same Episode
In an effort to find out where Xander's being held by the She-Mantis, Willow finds the address for Miss French, the assumed name of the She-Mantis. She also learns that Miss French was born in 1907!
When Buffy, Giles, and Willow arrive at Miss French's house, they're greeted by an old woman who asks if they're selling something. It becomes apparent that she is not the She-Mantis; she claims to have taught biology for over 37 years and that she retired in 1972! She looks to be in pretty good shape for a woman pushing 90, if you ask me....
Most Lucid Line:
"No, dear, I'm right here." -- to Buffy, who's telling Willow and Giles that "Miss French" could be anywhere.
---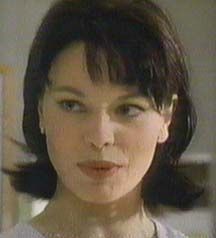 The ABCs of Sunnydale
---
1st She-Mantis pic courtesy of Kid Chyron's site, possibly an official WB image.
Other pics courtesy of Zak Zandarah!
This page last updated July 9, 1998.